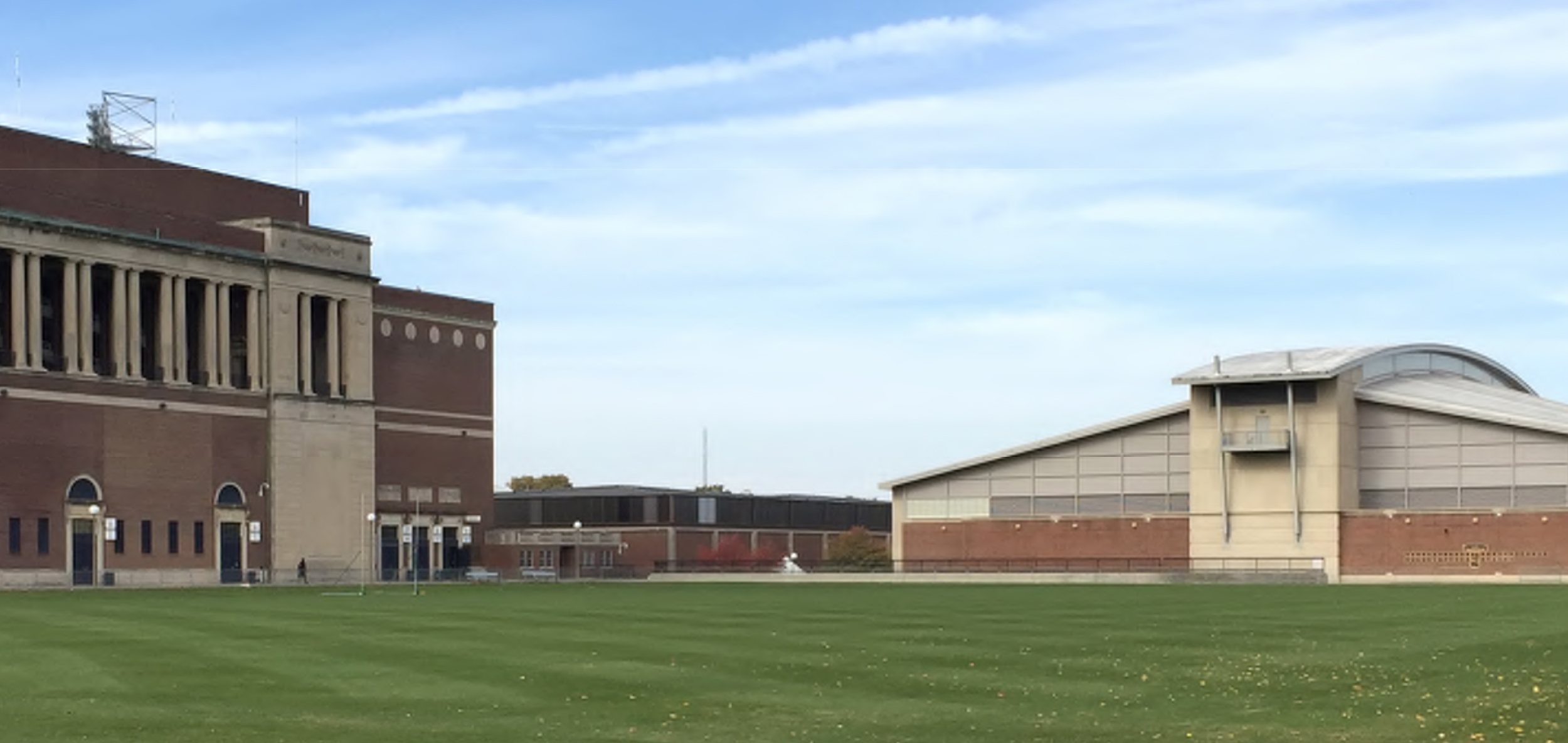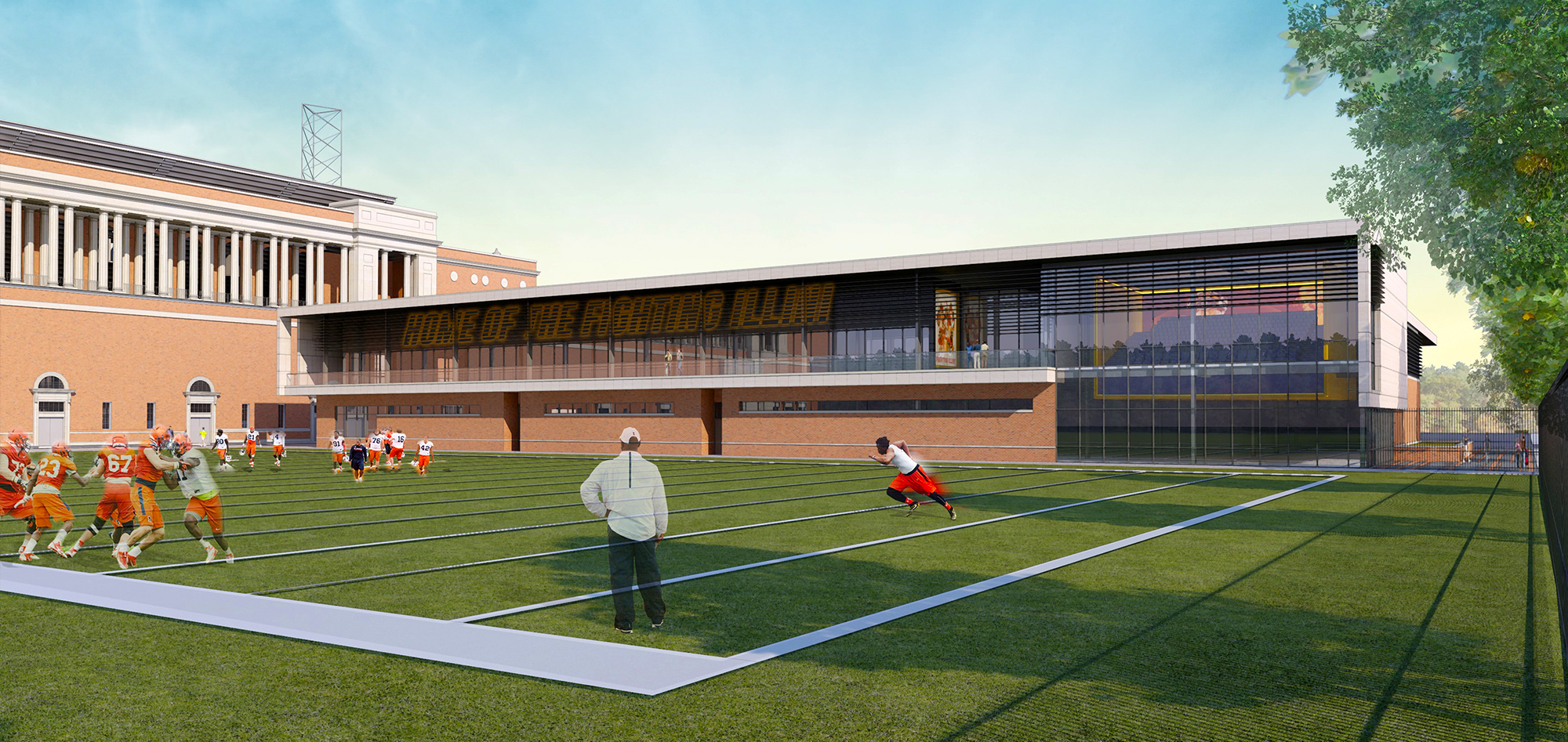 Changing the Face of Illinois Football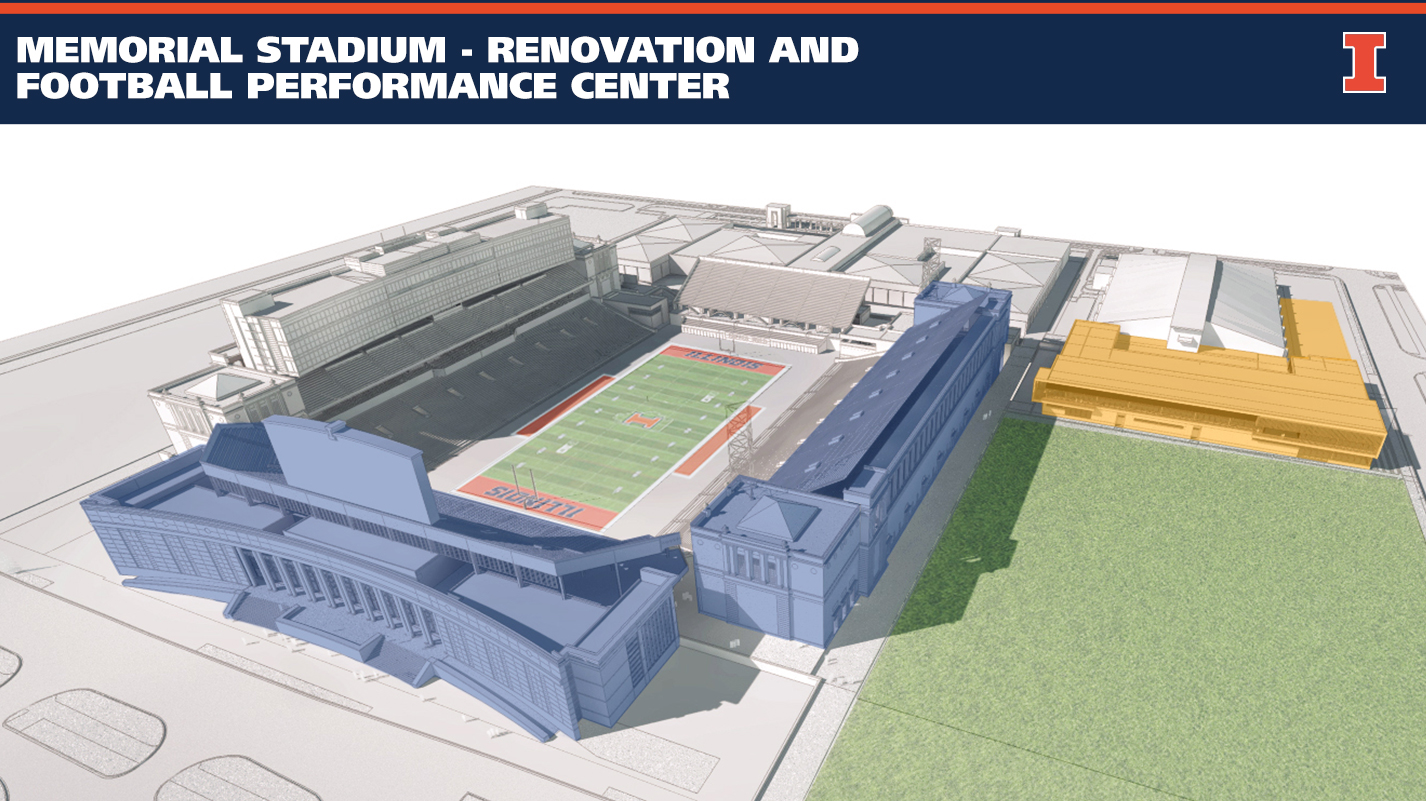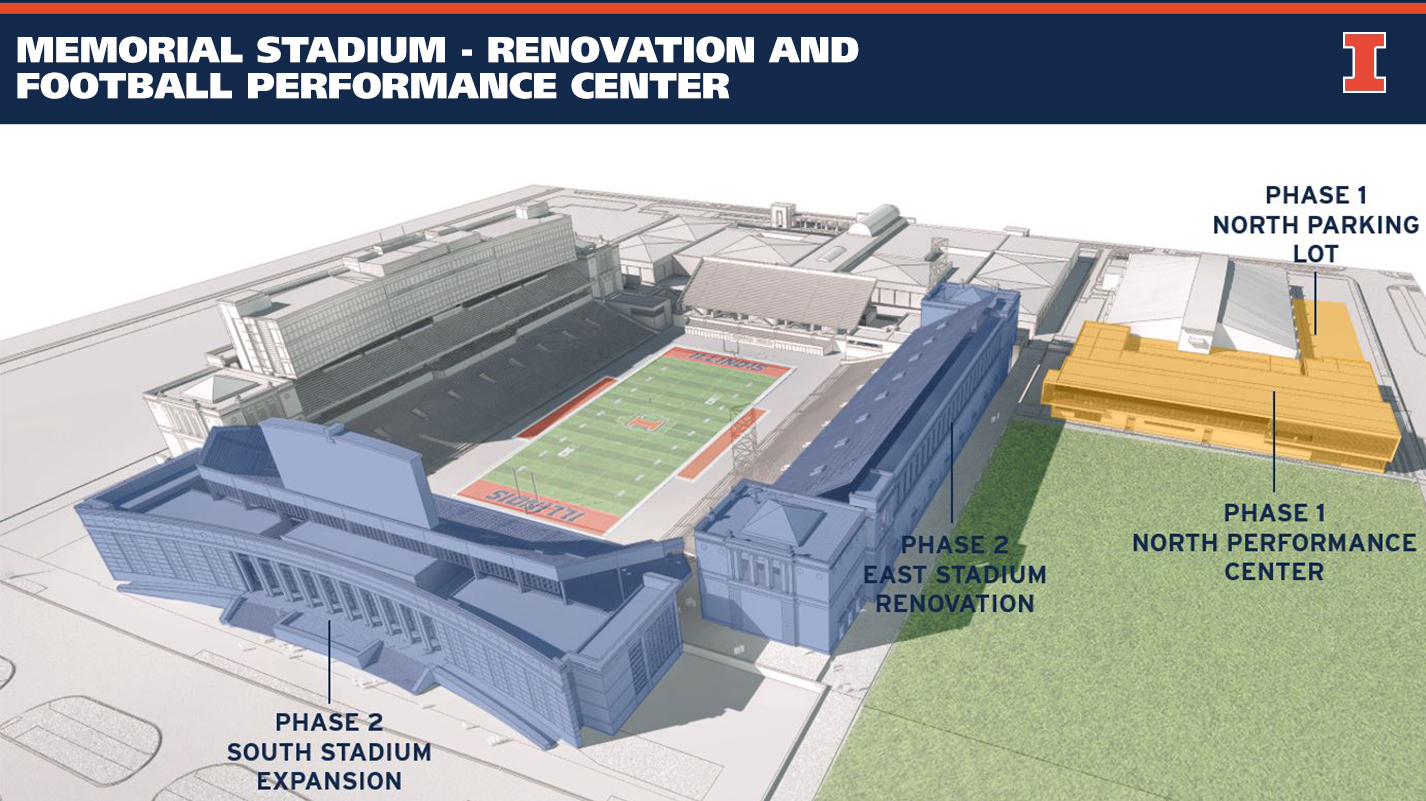 It started in March 2016, with the hire of coaching icon Lovie Smith. It continues now, with dramatic upgrades coming soon to the Fighting Illini football facilities. Plans call for a brand-new 107,650 square foot, $79.2 million Illinois Football Performance Center to be constructed next to the Irwin Indoor Practice Facility, and adjacent to Memorial Stadium. Future Phase 2 plans call for expansions of Memorial Stadium's south and east sides.
Make no mistake: before the nation's best and brightest student-athletes are competing for us, we are competing for them.
UPDATING OUR FACILITIES
Driving the project is the need to update our outdated football facilities. Today's program bears little resemblance to that which existed 30 years ago, when the current football operations complex was constructed. The football staff has grown substantially. Improvements to technology and methodology have changed the way players and coaches interact, train, prepare, and recover. Advancements in sports medicine and strength training have outpaced our facility's ability to house them. As a result, we are missing critical opportunities for our football student-athletes to prepare and develop, constrained by the limited functionality of our current facilities.
IMPACT ON RECRUITING
Of equal importance is the impact a quality facility has on recruiting. To win football games and pursue championships, we need top student-athletes from around the country to choose the University of Illinois to further their educations and their football careers. The competition for talent is fierce and pits us against tradition-rich football programs from coast to coast. To win in this race, we must offer exceptional leadership and resources that allow our student-athletes to realize every ounce of their potential. World-class facilities are an important part of the equation as well. Our facilities must demonstrate an institutional commitment to building, supporting, and sustaining a winning football program.
Building Our Future
The timeline is aggressive. Construction on the new football performance center will break ground in early 2018, with the project scheduled for completion prior to the start of the 2019 season.
Once the football performance center is completed and the team is playing at a high level, Phase 2 plans call for improvements to Memorial Stadium itself. On the stadium's east side, fans will enjoy new restrooms and concessions and improved accessibility in the form of new entrances and elevators. Most compelling, however, are the changes intended for the south end of the stadium. There, the "horseshoe" stands will be demolished, replaced by a new south grandstand. In addition to amenities similar to those that will be found on the renovated east side, the area will feature greater seating capacity, with fans much closer to the action on the field. The grandstand will enclose the entire stadium, making it feel more intimate for our fans and more intimidating for our opponents. A timeline for the stadium renovations will be announced at a later date.
As proud members of the Illini family, we invite you to join us as we build the future of Illinois Football.
"Following completion of this critical project, our student-athletes, both present and future, will have the opportunity to compete annually for Big Ten championships."
Lovie Smith, Illinois Football Coach
Frequently Asked Questions
Why are we undertaking this project?
Student-athlete welfare and program competitiveness are the driving factors in constructing the Illinois Football Performance Center.
By enhancing our strength and conditioning, equipment, sports medicine, training and meeting areas, our student-athletes will have access to one of the top facilities in the nation. The daily use of enhanced facilities by our student-athletes will lead to peak performance on the field of play. It will also allow us to compete aggressively for the most talented prospective student-athletes in the country.
This state-of-the-art facility – to be located next to the Irwin Indoor Practice Facility, adjacent to Memorial Stadium – is the latest demonstration of our institutional commitment to building, supporting, and sustaining a winning football program.
When will this project begin?
Construction on the Football Performance Center will begin in early 2018, with the project scheduled for completion prior to the start of the 2019 season.
How much is this renovation going to cost?
Estimated cost for the 107,650-square-foot, Illinois Football Performance Center is $79.2 million.
How will this project be paid for?
Private gifts and Division of Intercollegiate Athletics funds will be used to provide funding for this ambitious project. There are no plans to use state money or tuition assessments to finance this renovation. Student fees will not be a part of this renovation.
Will the renovation interrupt the football season in any way?
No; games will be played at Memorial Stadium as scheduled.
What can I do to help fund this project?
Naming and gift opportunities will be available. Please contact the Office of Athletics Development at (217) 333-6595 if you have interest in helping to fund this project.
Why did location of this facility change from the originally proposed south end zone location?
Constructing a new facility will allow us to build exactly what we need without being limited by an existing footprint. Through extensive tours of our peer institutions, we found the very best performance centers to be stand-alone facilities that were constructed from the ground up.
By building at the northeast side of the stadium, we will not face space constraints that exist between the south end of Memorial Stadium and Kirby Ave.
With the new building's direct access right next to the Irwin Indoor Practice Facility and the east grass practice fields, and a short walk to the team's entrance to the stadium, this location will provide for the most centrally located, efficient space for use by our coaches and student-athletes.
Are renovations still going to occur on the south and east sides of Memorial Stadium?
Following completion of the Football Performance Center, we will then pursue Memorial Stadium renovations to include new seating in the horseshoe and improvements in fan amenities on the south and east sides.
Is there a master plan for all sport facilities?
In the coming months, we will introduce a master plan that includes facilities for many of our Olympic sports and establishes an overall long-term strategy for future construction.